Prematurely lifting UN sanctions off Isayas and its consequences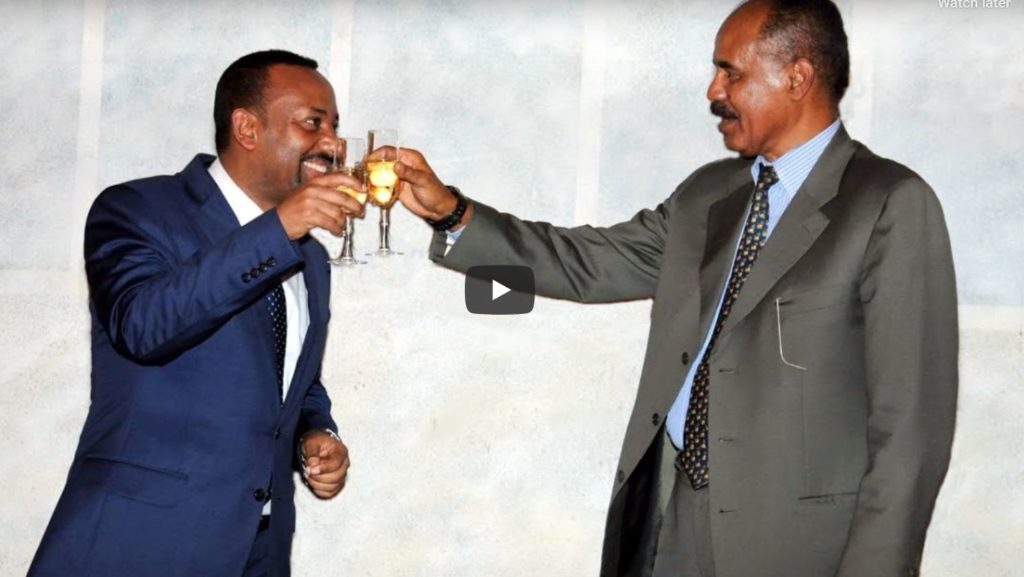 As we know the sanctions imposed by UN on Isayas Afwerki was lifted through the help of the Ethiopia noble prized PM after the international community chose to give chance to the new Ethiopia PM's engagement for peace with Eritrea. There is no doubt the international community has serious doubts about the lifting off the sanctions and whether that will help to restore the social crisis in Eritrea.
However, as soon as the sanctions are lifted, Isayas started to openly work against the peace of the region by tacitly engaging and detouring the new PM-Abi into unexpected direction. Both are now actively militarizing themselves against the Eritrean people Tigray/Afar people and now against the Oromo and other Ethiopian people.
There is no time in history as this were the cloud of war is visible on Eritrea Tigray and other Ethiopia regions. Fear and uncertainties hovering in the skies of East Africa.Isayas Afwerki with his crime infested generals are actively engaging, arming and preparing for unseen war in due disregard to the expectations made upon them when the sanction were lifted.
What was the reason for the UN sanction on Isayas Afwerki on the first place?Why UN lifted the sanction now?
Was this right time to lift sanction?
No, the UN, USA, UK, Europe and related international agencies should have considered the following before they lift the sanction;
1. Isayas should have been asked to lift the sanction imposed upon his people on pretext of the UN sanction, border issue and many other reasons.
2. He should have been asked to release prisoners for their political view and religious reasons, allow free media and shown in practical actions.
3. He should have been asked to demobilize the young people rotting under his unending military service, with actions.4. They should have put back the UN monitoring along the border and push immediately to implement the border demarcation.
What is the consequences of this prematurely lifted sanction?
The sanction was lifted in due disregards to the plight of the Eritrean people, primarily the sanction was not imposed on him because of the dire human rights violations to Eritreans. The sanctions politically motivated, in the interest of the big powers and was lifted when they believed he is ready to work for their interests. In my view the sanctions did little and never stopped him from arming and supporting various position groups rebel again the Ethiopia government, except the sanction did good job in restraining him in Adi Halo premises for some years, out of the reach of other regional leaders.
Lifting the sanction was premature, because the consequences are now clear, instead of changing his course and work for peace; he is actively engaged in military mighty and show of strength.
It is premature, because it did rather re-inflated his ego and stubbornness and his war minded strategies.
The international communities, US, UK and Europe, I believe are regretting for what they have done and for ignoring the cry of the Eritrean people for lifting the sanctions and allowing him to openly steer the whole region now.
The sanctions was lifted while he was actively engaged in the Yemen conflict, hostile actions to wars the regional government in Tigray.
Since, he believed he unleashed the international pressure, the sanctions on him for the last two decades, now he feels he is immortal against all odds against the US, UK and European powers. This dictator's DNA is now in its climax to steer conflicts further in East Africa, create chaos, military zones, and instigate conflicts among people. His appetite to control people is exacerbating after completely crippled the Eritrean people, now is stretching to Ethiopia through the good will of Dr Abi. The region is destabilized now staring from Eritrea Sudan, Ethiopia, and Somalia in genera the whole East Africa.
For Isayas beside the Eritrea people, the Tigray is their bitter enemies; now the Oromo's are also added to his list. His power thirsty agenda, his hatred and ego to be the strong man of East Africa going to price us hugely not only for Eritreans, but also for Ethiopians, Sudanese and other will also be affected.
Is there real danger Isayas going to do to the region?
Yes, his recent trips to various countries while the COID19 is dangerous killing many lives is showing us some very important developments going on. As it is the nature of all dictator, they fear their shadows too, Isayas cannot sleep unless he feels secured by putting his security personals everywhere not only around his palace Adi Halo but far away as well. He will send his security to work in Ethiopia, Sudan, and Somalia etc. for his personal safety and security.
Everybody knows Isayas is working day and night remove TPLF, empower Derg-like regime in Ethiopia, to control Sudan and Somali.
We cannot escaping imagining what legacy is he going to leave into the East Africa region if;
– If he stationed soldier in Sudan, Ethiopia, Somalia etc.
– If Ethiopian soldiers are stationed in Eritrea
– If Sudanese soldiers are stationed in Eritrea
– If UAE soldiers are stationed in Eritrea
– If Somalia soldiers are stationed in EritreaThe above leaked news or obtained from various sources indicates that there is suspicious activities by Isayas Afwerki and his security in various region in East Africa. As Eritreans, we never doubts this information, he can do all evil acts under the sky with in his power. The consequences of his actions, together with negligence and blind eye of the international communities will destroy the peace in East Africa immersing the region into unnecessary, complicated chaos.
Are we better off without Isayas ?
Yes , Eritrean, Ethiopian people as well as the our region is better off without Isayas if he is gone for good by hook or crook. Even it is good for Ethiopian PM, he could have handle it better the situation in Ethiopia if Isayas destructive advises are gone. He could have compromise a lot with the Tigray, Amhara, and Oromo Politician's for the better of Ethiopian. Instead of using force, imprisoning opponents' eta similar to what Isayas was doing for decades. Allowing Isayas to be the main player in Ethiopian politics, he can only inject evil ideas based on hatred to TPLF, hatred to the Meles Zenawi's legacy for the federal system and other pro federation politicians.
Many mislead by Isayas's emotional gesture during his visits to Ethiopia, thought he wishes good for Ethiopia. However, that was not true, he does not want to see stable, federal Ethiopia implemented by PM Meles. Not because he has better choice for Ethiopia but only out of his ego and his thirsty to be the strong man in the region.
The junior Abi, standing on flimsy power props in Ethiopia has no choice but to align himself with aged dictator. Many believe Abi would convince Isayas to change and start the LOVE language but the reverses is happening. Now we are witnessing in Abi- Isayas friendship the evil ideas and tactics dominating the ground than the good. Abi is absorbing like a sponge all the snare tactics of Isayas, who acquired them since his early 20's. Abi may feel safe now but the inevitable fall of the old dictator might entangle him to his failure. We, Eritreans were very optimistic with Abi's actions on Ethiopia at start but all evaporated and on the contrary, Abi is instrumental to Isayas survival, ultimately adding misery to our people. Hence, we have the duty and responsibility to expose their evil agendas.In short, the sanctions lifted prematurely resulted into more chaos, fear and uncertainties among Eritreans, Ethiopians, over all in East Africa people. Now we are in a very dangerous situation with war and war like discourse hovering our skies.
Can we avoid war?
Yes, How?
1. Let the good citizen of these countries say no to war, and put pressure for peace. We need to take action now and say no to WAR through social media and others.
2. Send email to embassies, governments and expose the evil agenda of Abi and Isayas and its dangerous consequences.
3. We should tell those warmongers like Sisay of ESAT news, X-derg Genera Chemeda and other bloodthirsty irresponsible people to stop their war declarations.
Let us together stop the evil agenda of Abi and Isayas.
Say No to War Now & Isayas must Go.
Personal opinion by Mulugheta Hailu